Post by JoshiQ on Sept 6, 2012 22:16:53 GMT -5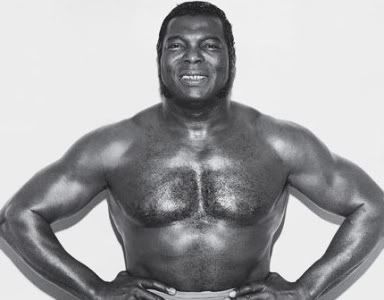 Bobo Brazil
World Title x 1 – 616 Total Days
US Title x 1 – 28 Total Days
GCW Wrestler of the Year x 2 – 1967 and 1968
GCW Feud of the Year x 3 – Abdullah Farouk (1966), Ernie Ladd (1967), Luke Graham (1969)
GCW Most Popular x 4 – 1966, 1967, 1968, 1969
5 Star Matches x 1 – vs. Lou Thesz, May 22, 1965
Key Feuds: Abdullah Farouk, The Sheik, Gene Kiniski, Ernie Ladd, The Cripplers, Luke Graham, Capt. Lou Albano
Bobo Brazil made his GCW debut on January 5, 1963. He was involved in the tournament to crown the first GCW World Champion which was won by Buddy Rogers. Brazil was eliminated in the first round when he battled to a double countout with The Sheik. This feud would lead to GCW's first match held with no countouts and no disqualifications. Brazil would also compete in the tournament to become the first US Champion, but would be eliminated in the first round by The Sheik when Abdullah the Butcher made his debut and cost Brazil the match. He would align himself with Danny Hodge to do battle with The Sheik and Abdullah the Butcher, better known as the Madmen, and their manager Abdullah Farouk. Brazil would let Hodge continue the feud on his own after he was forced to submit by The Sheik in tag team action on June 22 of 1963.
Brazil would feud with Abdullah Farouk again in the later stages of 1963 leading him to defeat Farouk's charge Gene Kiniski for the US Title on December 7, 1963. Farouk would get his revenge as on the very next show Brazil lost the US Title to Ernie Ladd on January 4, 1964. The feud with Farouk would continue for most of 1964 with Farouk putting a $10,000 bounty on Brazil's head. Several men tried to cash in including Freddie Blassie, Ray Stevens, and Gene Kiniski. Brazil brought in a manager, James Dudley, to watch his back in his feud with Farouk, but that didn't stop Boris Malenko from debuting and leaving Brazil a bloody mess to earn the $10,000 bounty. Bobo Brazil would not stay down for long as the next show he defeated Boris Malenko in a no-dq chain match. His temper would flare again on February 27, 1965 when he nearly destroyed Boris Malenko with a chain and sent him packing from GCW.
He would earn his first World Title shot on May 22, 1965 against Lou Thesz, and the two men would put on a classic, getting a five star rating from those in attendance. Unfortunately, the match was interrupted by Gene Kiniski, The Sheik, and Abdullah Farouk, who were still feuding with Brazil at the time. On July 17th of 1965, Brazil would get a rematch with Thesz due to the way the previous match had ended. This time Thesz would be victorious by submission with the STF. The match was not quite up to the standards of their previous match, but it was still well received. They shook hands after the match.
Brazil would be involved in another first, a tag team match with managers teaming up with the men they manage. Dudley and Farouk had several altercations leading up to the match, and Brazil and Dudley would be victorious over Farouk and Baron Mikel Scicluna when Dudley pinned Farouk on January 1, 1966. This would lead up to a cage match between Farouk and Dudley where Farouk handcuffed Dudley to the top rope and would escape the cage to win. Scicluna and Farouk laid a vicious beating on Dudley after the match with Brazil being laid out by Kiniski and The Sheik. Dudley would eventually make his return, but Farouk grew weary of their feud and offered Brazil a chance to face him in the ring if he could defeat his four wrestlers in four consecutive shows. Brazil would defeat Miguel Perez, Gene Kiniski, Baron Mikel Scicluna, and his oldest enemy, The Sheik. After his victory over The Sheik, The Sheik threw a fireball into his face and there was serious doubt on if he would be able to compete against Farouk. Brazil was deemed unfit to compete for his match with Farouk on October 8, 1966, but James Dudley decided to take matters into his own hands by facing Farouk in a Loser-Leaves-Town match. Farouk would be successful in eliminating Dudley from GCW after interference by Gene Kiniski, who at the time was GCW World Champion.
Brazil would get his third shot at the World Title, this time against Kiniski, on December 3, 1966, but lose by disqualification due to refusing to listen to the referee's orders. They wrestled in a rematch at Cage Warfare on December 31, 1966, but Kiniski would once again defeat Brazil. Brazil vowed he would take the World Title from Kiniski before the end of 1967 and rid GCW of Farouk. The feud with Farouk continued with Brazil facing off against Hiro Matsuda and Baron Mikel Scicluna in several matches. Brazil would battle Killer Kowalski to a double disqualification in a number one contender's match for the World Title due to Farouk's interference, but this led to Brazil getting a shot at the title on April 22, 1967. Brazil pinned Kiniski for the World Title after the Coco Butt when James Dudley returned to GCW and prevented Farouk from interfering in the match. With his feud with Farouk finally winding down, Brazil focused on defending his title against the likes of Ernie Ladd, Johnny Valentine, The Sheik, and Baron Mikel Scicluna.
A special match was held on November 19, 1967 when Brazil faced NWA-SF's King Curtis Iaukea. Brazil was fighting for GCW in this match, and he upheld the honor of GCW by winning the 2/3 falls match by two falls to one. Brazil would enter into a new feud with Captain Lou Albano and Luke Graham when Graham broke James Dudley's Manager of the Year trophy over Bobo's head. April 20, 1968 saw Brazil defeat Graham in a steel cage match and lead to Graham needing to take some time off due to the injuries he suffered in the match. Albano would bring in George "The Animal" Steele who would feud with Brazil for most of the summer of 1968. During a match with Johnny Valentine, Hiro Matsuda and George Steele would interfere and lay a vicious beating onto the World Champion. Peter Maivia and, surprisingly enough, Luke Graham would be the ones to make the save. It was all a ruse, however, as Luke Graham turned on Brazil after a tag team match against George Steele and Johnny Valentine, and Graham reunited with Albano.
Brazil's only World Title reign would end on December 28, 1968 when Luke Graham defeated him in a match with a special guest referee, Lou Thesz. Graham almost ended the career of Brazil after the match by going for several Thumbs to the Throat, but Thesz intervened. Brazil's title reign lasted 616 days. Brazil would take the first half of 1969 off before returning in May to challenge Luke Graham. The rematch took place on June 28, 1969 at Fenway Park, but Brazil would ultimately be unsuccessful after Albano interfered. Brazil competed in the Grand Prix of Wrestling in 1969, defeating Ole Anderson and Dick the Bruiser in the first two rounds, before losing to Luke Graham in the third round.
Bobo Brazil and Ernie Ladd reignited a feud for the latter part of 1969, and Ladd put Brazil on the shelf while defeating him in a steel cage match. Brazil would return for the year-end show of 1969 to defeat Ladd in an Unsanctioned Match. A feud with the Cripplers took up a lot of 1970. Nick Bockwinkel and Ray Stevens made quite a name for themselves by defeating Peter Maivia and Bobo Brazil several times. Brazil and Maivia stuck together after the feud and continued to team with little luck. They finally had a nice stretch of matches by making it to the finals of a tournament to crown World Tag Team Champions, but lost in the finals to the Cripplers. Dick the Bruiser and The Crusher blamed Maivia and Brazil for their elimination and vice-versa which led a heated feud between the two highly experienced teams. Bruiser and Crusher would win final match between the two.
Brazil teamed with Bruno Sammartino and Peter Maivia to face The Crusher, Dick the Bruiser, and Baron Mikel Scicluna. During the match, Maivia would assault Sammartino leading to Brazil questioning Maivia's actions. A match was signed for the two to face each other on March 13, 1971. Tragedy struck when Maivia backdropped Brazil, but Bobo's landed awkwardly and broke his back. It was later announced that Brazil had been paralyzed from the waist down. Sammartino would dedicate a successful World Title against Peter Maivia on May 6, 1971 to Bobo Brazil.
Brazil would return to GCW on December 25, 1973 for an award ceremony, but it was interrupted by Bobby Heenan and The Cripplers. The Cripplers would leave Bobo Brazil Jr., Bobo's son, a bloody mess and even got the upper hand on Ernie Ladd, who tried to make the save. Ladd and Brazil did not get along during Bobo's career, but he had grown to respect the man. Ladd would continue the feud with the Cripplers to try and revenge the attack on Bobo's son. Bobo Brazil made another appearance on December 1, 1976 in the corner of the man that injured him, Peter Mavia. Maivia had a World Title shot against Harley Race, but he would be unsuccessful in winning the title due to Race slapping Brazil across the face. This caused Maivia great distress and left him open to Race's Piledriver.
No word about whatever happened to James Dudley and his spinning towel.