Post by JoshiQ on Sept 7, 2012 0:16:10 GMT -5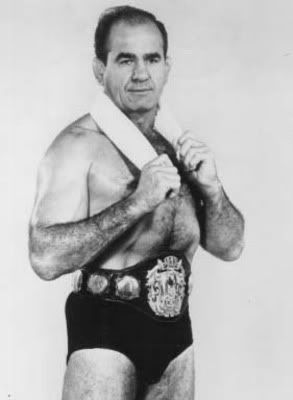 Lou Thesz
World Title x 1 – 840 Total Days
GCW Wrestler of the Year x 3 – 1963, 1964, 1965
GCW Match of the Year x 3 – 1963, 1964, 1965
GCW Feud of the Year x 1 – Bruno Sammartino (1963)
5 Star Matches x 6 – vs. Buddy Rogers 2/2/63; vs. Bruno Sammartino 7/20/63; vs. Bruno Sammartino 1/4/64; & Bruno Sammartino vs. Johnny Valentine & Bill Watts 9/12/64; vs. The Sheik 4/24/65; vs. Bobo Brazil 5/22/65
Key Feuds: Abdullah Farouk, The Sheik, Bruno Sammartino, Luke Graham, Harley Race
Lou Thesz made his GCW debut on January 5, 1963 in the tournament to crown the first World Heavyweight Champion. Thesz defeated Freddie Blassie in the first round by pinfall and Killer Kowalski in the second round by disqualification. Kowalski would lay out Thesz with a chair after the match, but Thesz would still compete in the third round against Buddy Rogers. Thesz would lose to the eventual winner, Buddy Rogers, in the semi-finals after being dropped with a piledriver. Thesz would be the first person to challenge Rogers for the World Title but would fall victim to Rogers pulling the tights. The match was immediately heralded as one of the best in the history of wrestling, getting five stars from the critics. This match took place on February 2, 1963.
Thesz defeated Kowalski to avenge the attack he suffered in the World Title tournament, and would enter into a brief feud with Freddie Blassie based around Thesz defeating him several times with ease. Thesz would win that feud and go on to face Bruno Sammartino for the World Title on July 20, 1963. Thesz would win his first World Title by making Sammartino pass out in the STF after over an hour of in-ring action. The two men shook hands after the match in a showing of good sportsmanship. This match was the second five star match of Thesz's career. Thesz would go on to defend his World Title in matches against Freddie Blassie, Ernie Ladd, and a rematch with Bruno Sammartino. A third match between Thesz and Sammartino was signed, and they went fifty-six minutes before battling to a double pin after a German Suplex by the champion. Thesz had defeated Sammartino twice and battled him to a draw the third time.
Thesz would once again defeat Sammartino in another rematch, this time by countout after Sammartino twisted his ankle. During this run of matches, Lou Thesz had decided to retire upon losing the World Title. Sammartino tried to be the one to win the strap and retire Thesz by getting one last match but under the stipulation that this would be Bruno's last opportunity. On January 4, 1964 Thesz and Sammartino fought one last time with Thesz emerging the victor in fifty-four minutes after locking Bruno in the STF and forcing him to pass out. This was the third five star match of Lou's career. Killer Kowalski attacked Thesz after the match to reignite their feud. Thesz would defeat Kowalski to get his revenge, and then focus on defending his title against all-comers. Gene Siniski, Mark Lewin, Freddie Blassie, Dr. Jerry Graham, and Bill Watts were among the challengers that failed to take the title.
Unlike most wrestlers, Thesz avoided any serious feuds around this time, instead putting all of his attention on successfully defending his World Title. He still held firm that if he were to lose the title he would retire. A wrench was thrown in the works when Lou Thesz took part in the second ever Wildcard Match on August 15, 1964. This was a match where men were chosen at random. Thesz had to defend his World Title twice on the same night, but was able to do against Killer Kowalski in the Wildcard Match and Johnny Valentine in the main event. Lou Thesz would take part in his fourth five-star classic when he teamed up with Bruno Sammartino, an old rival, to face Bill Watts and Johnny Valentine. Thesz would be pinned in the match at the 40-minute mark by Watts after a Thesz/Sammartino disagreement. Watts was named the number one contender, but he was still unable to dethrone Thesz, passing out to the STF in just under 18 minutes. Thesz went back to defending his title against any style of challenger, including The Sheik on November 7, 1964. Thesz defeated The Sheik, but The Sheik attacked him after the match and was preparing to throw a fireball into Thesz's eyes, but Bobo Brazil made the save.
Thesz joined forced with Bobo Brazil and Haystacks Calhoun to do battle with The Sheik, Boris Malenko, and Gene Siniski along with their manager, Abdullah Farouk. The brief feud culiminated with Lou Thesz defeating The Sheik in a 2/3 falls match. Lou Thesz would face off against Danny Hodge on February 27, 1965 in a match that pitted perhaps the two best pure wrestlers on the planet. Thesz would be victorious in twenty-one minutes with the STF. Both men shook hands after the match. Thesz would return to his feud with The Sheik and Abdullah Farouk when he was attacked backstage by Farouk's men. There would be an attempt to settle the feud when Lou Thesz fought The Sheik inside a steel cage for the World Title on April 24, 1965. Lou Thesz would be victorious in his fifth five-star match. As Thesz was leaving the ring, Gene Kiniski, one of Farouk's men, slammed the cage door in his face. Kiniski tried to end Thesz's career, but Bobo Brazil made the save. Thesz told Bobo he would repay him, and Bobo opted for a World Title shot.
Lou Thesz wrestled in his sixth five-star match, going nearly thirty minutes with Bobo Brazil, before a no-contest was called for due to interference by Gene Kiniski and The Sheik. On July 17, 1965 the two men had a rematch which Thesz won after seventeen minutes with his STF. Brazil and Thesz showed no hard feelings after the match, shaking hands. Thesz went back to defending his title against the likes of Johnny Valentine, Baron Mikel Scicluna, and Ernie Ladd. The unthinkable happened on November 6, 1965. Lou Thesz was once again chosen for a Wildcard match and pitted against Chief Jay Strongbow. Thesz would lose the match via countout when Bill Watts, his opponent later on in the main event, interfered and hit him with a cowbell. Watts took full advantage of the opportunity he had later in the main event, opening Thesz' cut from earlier wide open, and nailing him with the Oklahoma Stampede. Thesz didn't even last nine minutes before he was pinned, losing the World Title in the process. Lou Thesz held the World Title for 840 days before losing it to Bill Watts.
Thesz followed through on his promise, retiring after his loss of the title. He gave his retirement speech on January 1, 1966, but it was interrupted by Bill Watts. Watts spoke down to Thesz, but the former champion simply left the ring. Watts would lose the title later on in the evening to Bruno Sammartino, Thesz' long time friendly rival.
Lou Thesz would not be heard from again until three years later, December 28, 1968. Lou Thesz was brought in to be the special referee for a match between World Champion Bobo Brazil and challenger Luke Graham. Graham would win the title, but after the match, he tried to continue the attack on Brazil. Thesz would have none of that as he brought Graham down with a rear waistlock. Graham came close to coming to blows with Thesz, but Capt. Lou Albano, his manager, prevented him from doing so. On the next show Luke Graham defeated Peter Maivia in a title defense. Graham looked to continue the beating after the match when Lou Thesz stunned the world by making the save. Thesz was not happy with the lack of respect he was showing the World Title. Graham would successfully defend his World Title against Lou Thesz on March 22, 1969 in Thesz' first match since his retirement in forty minutes. Graham broke the rules by raking Lou's eyes and nailing him with the Thumb to the Throat. After the match, Graham nailed Thesz with four more Thumbs to the Throat before Johnny Valentine (a man Thesz had defeated numerous times) made the save. Valentine had been feuding with Graham at the time, but he was ultimately unsuccessful in his attempt at the title on the next show.
Thesz came back to GCW for the ten year anniversary of GCW on January 1, 1973 to referee a match between Bruno Sammartino and Antonio Inoki for the World Title. Bruno would be victorious over Inoki after a powerslam. Inoki bowed to Sammartino after the match in the ultimate showing of respect.
He once again avoided the limelight for some time before being brought in as a special referee for a World Title defense on December 27, 1975 – Harley Race defending against Jack Brisco. Race would win the match, but he wanted to put an exclamation point on it as he attacked Brisco after the match. Thesz, once again, showed why he was assigned the job as a guest referee when he took Race down with a waistlock. Race did not take this kindly as he attacked Thesz when he turned his back to him. Race dropped Thesz with three Piledrivers, sending Thesz out on a stretcher. On February 25, 1976 Thesz was there to save Sgt. Slaughter from a post-match attack by Harley Race. A match was signed between the two for March 11, 1976. It would be Thesz' first World Title shot since 1969. Thesz came extremely close to winning the World Title when he planted Race with a German Suplex at the thirty minute mark, but Thesz' shoulders were on the mat while Race was able to raise his shoulder. Race retained the title, but Lou Thesz proved he still had it at the age of 59.